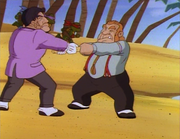 Krang's artificial island is seen in the 1987 TV series episode Adventures in Turtle-Sitting.
Constructed by Krang, it is attached by a chain to the Technodrome. Krang and Shredder attempt to trick the major crime leaders in New York City to the artificial island by distributing treasure maps of it.
Once the crime leaders have gathered on the artificial island, Krang plans to let it float away using helium-filled weather balloons, getting rid of them.
When the crime leaders are spotted on the artificial island, Burne Thompson sends April O'Neil there in a Channel 6 news helicopter. The Turtles go with her.
As the Turtles jump into the ocean water, the saltwater breaks the Food Revivifier effects on Donatello, Leonardo and Raphael.[1]
At the end, the Turtles pop the balloons, and instead the artificial island sinks into the ocean.
References
Community content is available under
CC-BY-SA
unless otherwise noted.