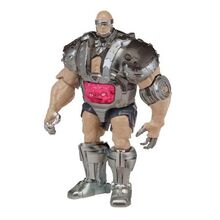 Kraang is an action figure released in 2016 by Playmates Toys for Teenage Mutant Ninja Turtles: Out of the Shadows.
Description
New York City. An old menace returns. New mutations arise. The ultimate showdown approaches. Our heroes must rise up again to save the city they love, even if it means exposing themselves for who they truly are... Teenage Mutant Ninja Turtles!
The 5-inch basic action figures are highly detailed, fully posable and uniquely sculpted to capture the personalities and distinctive appearance of the Turtles, their allies and their enemies in the movie.
True to the movie, this bigger, bulkier Kraang is going to challenge Team Green like never before!
Articulation
Swivel Head
Swivel Hinge Hips
Swivel Shoulders
Swivel Hinge Knees
Swivel Hinge Right Elbow
Hinge Left Elbow
Gallery