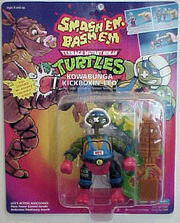 The Side-smashin' Sewer Samurai!
I'll be tasting victory while my Foot fetish friend will be tasting the mat. I'm Kowabunga Kickboxin' Leo – and that means I'll wipe any Foot wimp that dares to get into the ring with me. I float like Ray Fillet and sting like a killer bee. I'm the greatest and the fastest, I always win, cuz I strike fear into the hearts of weakling rhinos and puny pigs. No one can beat me – no one – because no one can master my moves. Every kick, right on target; every stomp, right in the kisser. I'm the master of the mat, and with you right behind me in the ring, I can't lose. The Foot shall fall and their heads will pop! I'll see you inside the ropes!
Community content is available under
CC-BY-SA
unless otherwise noted.