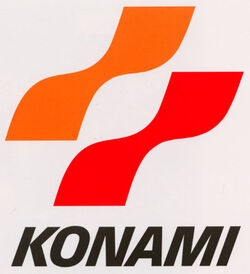 Konami is a Japanese video game developer and publisher. Konami has made most of the Teenage Mutant Ninja Turtles video games as well as the Wild West C.O.W.-Boys of Moo Mesa arcade game.
Some of these games were published on Nintendo consoles not under the Konami label, but under labels of Konami-owned shell corporations, Ultra Games in North America and Palcom Software in Europe, to get around Nintendo's policy at the time which limited licensees from publishing more than five games per year on a given Nintendo console outside Japan, a limit which Konami routinely exceeded. In particular, the Teenage Mutant Ninja Turtles 1989 video game for Famicom/NES was separately published under all three labels according to regional market. When Nintendo ended this peculiar licensee policy in 1992, Konami discontinued both the Ultra and Palcom labels and published subsequent games only under the Konami label.
After releasing four multi-platform titles based on the 2003 TV series era, the rights to publish TMNT video games passed to Ubisoft.
Konami is famous for games such as the Metal Gear series, the Dance Dance Revolution series, the Castlevania series, the Contra series, the Suikoden series the Pro Evolution Soccer series, the Yu-Gi-Oh! series, the Silent Hill series, the Gradius series, and the Frogger series. They also now own the franchises previously published by once-prolific developer Hudson Soft, including the Bomberman series and the Bloody Roar series, which have since also been published under the Konami label.
The company was founded in 1969 as a jukebox rental and repair business in Ōsaka, Japan, by Kagemasa Kōzuki, the still-current chairman and president. The name "Konami" is a conjunction of the names Kagemasa Kozuki (current chairman and president), Yoshinobu Nakama, and Tatsuo Miyasako.
Konami is currently headquartered in Tōkyō and additionally operates health and physical fitness clubs in Japan. Konami also operates United States activities in El Segundo, California for video games and in Paradise, Nevada for the casino gaming industry. Its Australian gaming operations are located in Sydney, Australia, and distribution of Konami's games in Australia is handled by Mindscape Australia.
TMNT Games Published by Konami
Compilations
See also
External Links