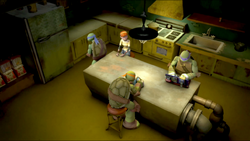 The Kitchen of the Lair was the first room to be shown in the 2012 TV series.
Appearances
Inventory
The kitchen counts with
Refrigerator
Oven
Micro-wave
Sink
Candy dispensers
"Table"
Pizza Oven
Cloth room divider
Trivia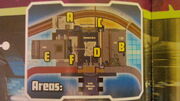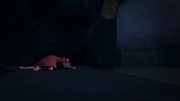 According even to an officially-published map of the lair, the kitchen occupies area which should overlap with the subway tunnel outside the lair's turnstile entrance. However, the interior of the kitchen does not interconnect with the tunnel, and indeed appears much roomier inside than should be possible—similar to the TARDIS from the Doctor Who series. A brief scene in the episode Clash of the Mutanimals gave a glimpse of the inside of the "kitchen" as seen from the common area. Instead of the actual kitchen, the scene showed a shallow dead-end wall just behind the cloth room divider, with the actual kitchen's interior not part of the rest of the lair's 3D model.
Gallery
See: Kitchen (2012 TV series)/Gallery
See: Kitchen (2012 TV series)/Animations
Community content is available under
CC-BY-SA
unless otherwise noted.