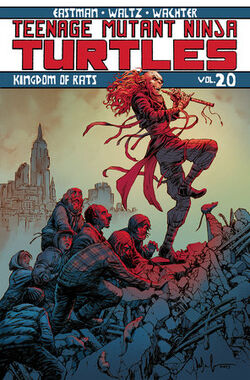 YOU'RE NOT ON 
 NICKTOONS 
 ANYMORE! 

Some TMNT stuff really isn't for little kids.
Kingdom of Rats is a story arc in Teenage Mutant Ninja Turtles (IDW) spanning from issues 81 to 84, plus a prelude appearing in Teenage Mutant Ninja Turtles Universe issue 19.
Credits
| | |
| --- | --- |
| | This article or section is incomplete. Some information regarding this topic has not been added. Please help TurtlePedia by finishing this article. |
Released April 11, 2018
New York City is in ruins after the Triceraton Invasion. Various groups jockey for control in the power vacuum. But there is one who doesn't care about power, only chaos... the Rat King! Will the TMNT be able to stop him from doing the unspeakable?
A haunting tale of intrigue and deception!
Released May 16th, 2018
Rat King's sinister influence spreads, and New York City's most vulnerable are at risk! The Turtles search out the Rat King's family in a desperate attempt to find a way to stop him!
Released June 6th, 2018
In an effort to thwart the Rat King, the TMNT travel to distant Siberia to try and enlist the help of his brother, Manmoth. The Turtles soon find that his welcome is less than warm in their new surroundings!
To be released July 2018
Transcript
Gallery