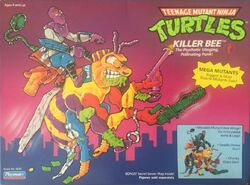 Killer Bee was an action figure released in 1990.
Buzz the Turtles with this hybrid killing machine - the diabolic result of a dastardly experiment in cross-pollination between a wicked drone and a psychotic criminal. This Killer Bee has only one thing on his tiny bee brain - destroy the Turtles! And he's got the arms and legs to do it - six, in fact. Along with a sawed-off shotgun and chainsaw, the Killer Bee also carries a ball and chain and a pair of handcuffs. There's even room for the Foot to ride the electric chair seat. Figures sold separately.
Gallery
Community content is available under
CC-BY-SA
unless otherwise noted.