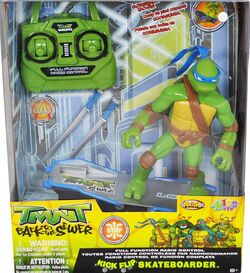 Cowabunga Dudes! It's time to shred the streets with the Teenage Mutant Ninja Turtles RC Leonardo Skateboarder. Licensed replica of Leonardo from Teenage Mutant Ninja Turtles makes a great gift for any fan of the classic comic book and 80s/90s tv show. Leonardo is ready to roll on his favorite skateboard, also trimmed in his favorite blue color. As the courageous leader and devoted student of martial arts, Leonardo can be seen wearing a blue mask and and wields two katana. As the oldest of the four and the most skilled fighter of the turtles, Leonardo was named after the Italian polymath, scientist, engineer, inventor, anatomist, and painter, Leonardo da Vinci. The detailed design on Leonardo features the blue mask and two katanas that are Leonardo's signature. This RC has a full function radio controller so it is able to run through the whole gamut of skateboard moves. The Teenage Mutant Ninja Turtles RC Leonardo Skateboarder is also able to do a cool spin action and pop wheelies. So take it out on a spin, this "hero in a half-shell" will thrill Teenage Mutant Ninja Turtle fans for hours.
Trivia
Community content is available under
CC-BY-SA
unless otherwise noted.