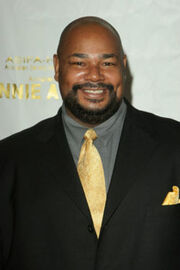 Kevin Michael Richardson (born October 25, 1964; 56 years old) is a popular American actor and voice artist. Richardson has usually portrayed villainous characters due to his deep and powerful voice. His most prominent voice roles include Gantu on Lilo & Stitch, The Joker in The Batman, Mammoth, Trigon and See-More in Teen Titans, Shadow King and Bishop in Wolverine & The X-Men, and Goro in the Mortal Kombat film. He also portrayed several heroic characters, such as Roadblock in G.I. Joe: Renegades, Bulkhead in Transformers: Prime, Panthro in Thundercats (2011), Kilowog in Green Lantern: The Animated Series, and The Martian Manhunter in Young Justice. While not necessarily a hero character, he also provided the voice for Robert Hawkins in Static Shock. From 2009 to 2013, he stars on the Family Guy spinoff, The Cleveland Show.
His live action roles include Rockefeller Butts in the short lived Knights of Prosperity, Darnell McDowell in The Cleaner and a police officer in Kevin Smith's Clerks II.
Richardson voiced the role of General Aguila, leader of the Stone Generals, in TMNT and The Shredder, Genghis Frog and 80s Shredder (in honor of the late James Avery) in the 2012 TV series and related video games.
Early life
A classically-trained actor and a native of the Bronx, New York, Richardson first gained recognition as one of only eight U.S. high school students selected for the National Foundation for the Arts' "Arts '82" program. As a result of this he earned a scholarship to Syracuse University and a spot on a PBS special directed by the esteemed late John Houseman.
Richardson married his wife Monica in May 2006 and had two children, Anthony and Michael.
External Links and References
Community content is available under
CC-BY-SA
unless otherwise noted.