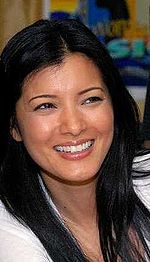 Kelly Ann Hu (simplified Chinese: 胡凯丽; traditional Chinese: 胡凱麗; pinyin: Hú Kǎilì; born February 13, 1968; 51 years old) is an American film and voice actress, as well as a former fashion model. She was Miss Teen USA 1985 and Miss Hawaii USA 1993. Select roles for which she is well-known are Ro-May in Surf Ninjas, Lady Deathstrike in X2, Cassandra in The Scorpion King, Stacy Hirano in Phineas and Ferb, Cheshire in Greg Weisman's Young Justice and Laura Hills in Hawaii Five-0.
Hu voices Hamato Miwa/Karai in the 2012 animated TV series. She used the Turtlepedia article of that character to learn about her character.[1]
Community content is available under
CC-BY-SA
unless otherwise noted.