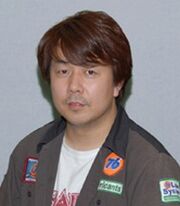 Kōichi Nagano (永野 広一, Nagano Kōichi, born December 12, 1966; 53 years old) is a male Japanese voice actor. He is from Sakura, Chiba, Japan. He debuted in 1990. Kōichi is famous for voicing Yuichiro Hikari in Rockman EXE. Another famous role includes that of Ryokan Kurita in Eyeshield 21. He was formerly part of 81 Produce.
He is the voice of several characters in the Japanese dub of the 1987 TV series; Vernon Fenwick, Neutrinos, and Dask as well as the "News Technician" in Mutant Turtles: Chōjin Densetsu Hen.
Community content is available under
CC-BY-SA
unless otherwise noted.