Line 1:
Line 1:
 

{{Turtle_character_infobox

 

{{Turtle_character_infobox

 

|gender = Male

 

|gender = Male

−

|image = [[File:Blueeyes.jpg|thumb]]

+

|image = [[File:Blueeyes.jpg|]]

 

|name = Juto-Shisho

 

|name = Juto-Shisho

 

|home = Japan

 

|home = Japan

Line 11:
Line 11:
 

Juto-Shisho is a member of the [[Ninja Tribunal]]. He was the second to reveal his true form to the [[Turtles]] and their [[Ninja Tribunal Acolytes|Acolyte]] friends. He is the ninjitsu master of weapons.

 

Juto-Shisho is a member of the [[Ninja Tribunal]]. He was the second to reveal his true form to the [[Turtles]] and their [[Ninja Tribunal Acolytes|Acolyte]] friends. He is the ninjitsu master of weapons.

 
 
−

He prominently appeared in the [[Teenage Mutant Ninja Turtles (2003 TV series)

+

He prominently appeared in the [[Teenage Mutant Ninja Turtles (2003 TV series)

−

|2003 animated series]]' [[The Lost Episodes|fifth season]] and once more during the wedding of [[Casey Jones]] and [[April O'Neil]].

 
 

[[File:Jutoshisho.jpg]]

 

[[File:Jutoshisho.jpg]]

 

[[Category:Teenage Mutant Ninja Turtles (2003) characters]]

 

[[Category:Teenage Mutant Ninja Turtles (2003) characters]]
---
Revision as of 23:29, 13 December 2010
Juto-Shisho
Biographical information
Home
Affiliation
Physical description
Species
Gender
Hair
Eye color
Out of universe information
Teachers and Students

  [Source]
Juto-Shisho is a member of the Ninja Tribunal. He was the second to reveal his true form to the Turtles and their Acolyte friends. He is the ninjitsu master of weapons.
He prominently appeared in the 2003 animated series' fifth season and once more during the wedding of Casey Jones and April O'Neil.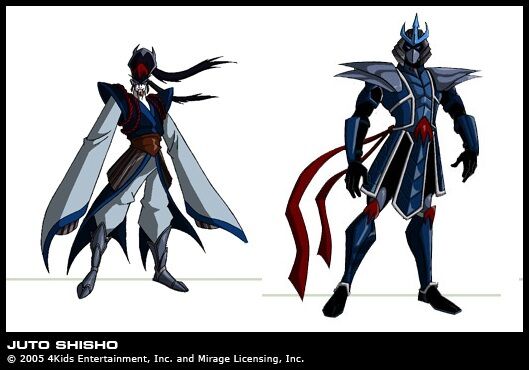 Community content is available under
CC-BY-SA
unless otherwise noted.