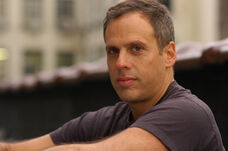 Josh Pais
(born June 21, 1964; 56 years old) is a native
New Yorker
who is the voice of
Raphael
in the first
Teenage Mutant Ninja Turtles movie
. He also portrayed Raphael in the suit, and is the only actor to play both physical and voice roles as a
turtle
.
Josh Pais has appeared in many other movies and television shows, including The Sopranos. He played Assistant M.E. Borak in 15 episodes of the series Law & Order, between 1990 and 2002. He also played the Spanish teacher in the film Assassination of a High School President.
Pais is the son of Lila Lee (née Atwill) and Abraham Pais, a Dutch-American Jewish physicist, professor and writer. Pais married actress Lisa Emery on August 27, 1990; the two have a son, actor Zane Pais. Pais and Emery divorced. Pais married Marie Forleo.
Trivia
Actor Josh Pais had anxiety about wearing his Raphael mask. The actor was the only one to provide his own character voice, but wasn't a fan of wearing the turtle mask because of severe claustrophobia. Pais would immediately remove his mask after every cut.
The actors who played the turtles all have cameos in the movie without their turtle suits on. Josh Pais "Raphael" — Plays the passenger in the back of the cab when Raph leaps onto the cab's hood.
Community content is available under
CC-BY-SA
unless otherwise noted.