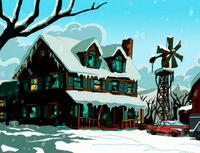 The Jones Farm is a fictional property outside Northampton, Massachusetts. It is a frequent location of episodes of the 2003 TV series, including Tales of Leo, Reflections and The Monster Hunter. It was originally the home of Casey Jones' late grandmother.
The Turtles, Splinter, April O'Neil and Casey first used it as a hiding place from the Shredder and the Foot Clan, as well as a place for a critically-injured Leonardo to recover. It was neglected and somewhat dilapidated when they first arrived, but a great deal of cleaning and repair work went on in the next few months to make it livable.
Over the next few years, it became the group's sanctuary whenever there was a need for mental and physical recovery. It also was the site of April and Casey's wedding in the series finale.
This version of Jones Farm is based on the same location from the Mirage TMNT universe.
Gallery
Community content is available under
CC-BY-SA
unless otherwise noted.