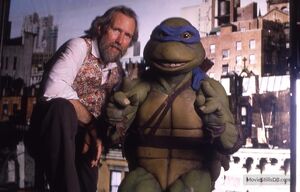 James Maury "Jim" Henson (September 24th, 1936 - May 16th, 1990; 53 years old) was an American puppeteer, screenwriter, film director, and producer, best known as the creator of the Muppets. He was also known for making the Teenage Mutant Ninja Turtles modeled clay suits. In the second film, he is dedicated of his memory at the very beginning of the film. 
As a puppeteer, Henson performed in various TV programs, such as Sesame Street and The Muppet Show, films such as The Muppet Movie The Great Muppet Caper, and The Muppets Take Manhattan and created advanced puppets for projects like Fraggle Rock, The Dark Crystal, and Labyrinth. He was also an Oscar-nominated film director, Emmy Award-winning television producer, and the founder of The Jim Henson Company, the Jim Henson Foundation, and Jim Henson's Creature Shop.
Henson was born in Greenville, Mississippi and raised in Maryland. He was educated at University of Maryland, College Park, where he created Sam and Friends as a freshman. After suffering struggles with programs that he created, he eventually found success with Sesame Street. During this time, he also contributed to Saturday Night Live. The success of Sesame Street spawned The Muppet Show, which featured Muppets created by Henson. He also co-created with Michael Jacobs the television show Dinosaurs during his final years. He died rather unexpectedly on May 16th, 1990, of organ failure resulting from a Group A streptococcal infection caused by Streptococcus pyogenes.
Trivia
Jim Henson wasn't happy with the violence in the 1990 movie. Henson's creature workshop did all of the turtle costumes, using some of the most advanced technology at the time. Despite the success of his company's reptilian creations, Henson was reportedly unhappy with the film's finished product, viewing the violence as "excessive, pointless and not his style."
Community content is available under
CC-BY-SA
unless otherwise noted.