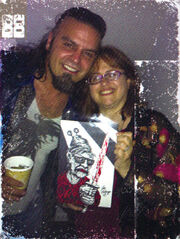 Jan Utstein-O'Neil is an American comic book producer, writer, filmmaker and editor. She is serving as producer on the documentary 35 Days of Kevin Eastman.
History & Noted Work
Jan Utstein-O'Neil is an internationally award-winning producer and editor-in-chief. She is co-owner of 88 Tranzmedia along with partner with Digger T Mesch. Formed in 2012, 88 Tranzmedia is dedicated to producing and developing a diverse slate of intellectual properties. Utstein and Mesch's combined talents and experience in film, toys, animation, publishing, manufacturing, design, merchandising, and social media offer a unique blend of credits that allows them to develop their projects to integrate across all media from their inception.
Utstein began her career in entertainment as the assistant art director on the cult classic film Pumpkinhead, and the second unit art director on Friday The 13th, Part VIII.
In 1997, she became partner and CEO of Hurricane Entertainment, where she produced numerous comic books and graphic novels through Image Comics, IDW Publishing and CrossGen Entertainment.
Utstein spearheaded Hurricane's title Violent Messiahs, which was nominated for several major comics awards, including the Harvey Award, Wizard Fan Award, and the Eisner's Russ Manning Award. While at Hurricane, she partnered with Star Wars' Ben Burtt (Academy Award-winning sound designer) on CHASSIS, and with Kurt Russell, Debra Hill and John Carpenter on John Carpenter's Snake Plissken Chronicles.
Before creating Hurricane with her husband, William O'Neil, she was a partner in the 3D computer animation company Coulter Studios. Their client list included Disney Interactive, Virgin Interactive, Showtime, TNT, Universal Pictures, MGM Studios and Touchstone Pictures. Coulter Studios was dedicated to producing high quality, character driven 3D animation, for the film, television and interactive markets.
Utstein's producing credits include: the Cinemascope feature film Valhalla, a San Sebastian International Film Festival – Opera Prima Selectee, and Rencontres Cinématographiques Franco-Americaines Special Jury Prize winner; Haven, winner of two Dramalogue Awards; and Agent 88, the highest funded pilot of a live-action web series on Kickstarter, distributed by Chill.com. She is also producing the documentary 35 Days of Kevin Eastman (2014) based on Teenage Mutant Ninja Turtles' co-creator and owner of Heavy Metal Magazine, Kevin Eastman.
Utstein co-produced the web series Payday, directed by Demian Lichtenstein (3000 Miles to Graceland) based on the Payday video game from Sony, as well as Payday 2. Her studio credits in production accounting include Green Hornet for Columbia Pictures, Cowboys & Aliens and Steven Spielberg's Lincoln for Dreamworks Studios.
External links
Community content is available under
CC-BY-SA
unless otherwise noted.