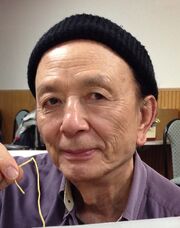 James Hong (born February 22, 1929; 89 years old) is an American actor, voice actor and director and former president of the Association of Asian/Pacific American Artists (AAPAA). A prolific acting veteran, Hong's career spans more than 50 years and includes more than 350 roles in film, television, and video games.
Hong is perhaps most widely known as the immortal ghost sorcerer Lo Pan in John Carpenter's cult classic "Big Trouble in Little China".
Ho Chan, the character he voices in the 2012 series, is an homage to Lo Pan.