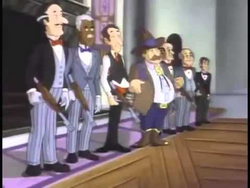 J. Gordon Hungerdunger's butlers are male characters appearing in the 1987 TV series. They appear in the episode Rhino-Man, and are employed by J. Gordon Hungerdunger.
They're required by their employer to wear uniforms to work, and address him as "Sir". It's they who puts the brainwashing chemicals in the sewers. They also participate in the fighting, using guns.
When the turtles first spot them in the sewers, they feel confused.