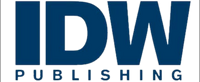 IDW Publishing
also known as
Idea + Design Works
,
LLC
and
IDW
is an American comics publisher that specializes in licensed properties. The company was founded in
1999
and has been awarded the title "Publisher of the Year Under 5% Market Share" for the years
2004
,
2005
and
2006
by Diamond Comic Distributors. IDW is the fifth largest publisher of American comic books. In addition to their printed comics and graphic novels, IDW has more than 650 books in digital distribution across multiple partners and platforms.
The company was initially known for horror comics, such as 30 Days of Night and Dark Days. Some well-known writers and artists of horror comics, including Ashley Wood, Ben Templesmith and Steve Niles contributed to IDW. The company now specializes in licensed properties, acquiring the rights to My Little Pony: Friendship is Magic, 24, Angel, CSI, Ghostbusters, Transformers, Star Trek, Dick Tracy, Doctor Who, G.I. Joe, True Blood, and Godzilla.
On April 1, 2011, IDW Publishing announced at WonderCon that it would begin publishing TMNT comics, including reprints and original stories. On May 19, 2011, the new comic was announced to start in August 2011, written by Tom Waltz and Kevin Eastman and with art by Dan Duncan.
History
IDW
Idea + Design Works (IDW) was formed in 1999 by four entertainment executives and artists, Ted Adams, Alex Garner, Kris Oprisko and Robbie Robbins. They decided to create a company that would allow them to work with a variety of clients on the things they liked: video games, movies, TV, collectible card games, comic books and trading cards. The company's services include character design, concept design, logo design, computer color, custom comic books, custom trading cards, trading card games, DVD menu design, online and print style guides, text stories and more. Scott Dunbier is IDW's Special Projects Editor.
The company has built a client base that includes: Activision, the BBC, Artisan Entertainment, Bandai America, Brady Games, Cartoon Network, Dimension Films, Electronic Arts, Fox Family, Golden Books, LEGO, Lions Gate, The Man Show, Microsoft, Pepsi, Pioneer, Revolution Studios, Square, Simon & Schuster, Trimark Pictures, Upper Deck and more.
In 2007, IDT Corporation purchased a majority interest in IDW. In 2009, IDT created CTM Holdings via a tax-free spin-off. This new company is compromised of the majority interest in IDW and CTM Media Group.
IDW Publishing
The company's first traditional comic series, 30 Days of Night, created by Steve Niles & Ben Templesmith started a seven-figure bidding war between DreamWorks, MGM and Senator International, with Senator winning and Sam Raimi attached to produce.
IDW Publishing's second title, Popbot, was acknowledged with two Spectrum Gold Awards.
IDW also publishes comics based on the CBS TV franchise CSI. The company's other licensed comics include Topps' Mars Attacks, Sony's Underworld, FX's The Shield, Fox's 24 and Angel; Hasbro's The Transformers and G.I. Joe, Universal's Land of the Dead and Shaun of the Dead; and Konami's Silent Hill, Castlevania, Metal Gear Solid and Speed Racer.
Beginning in 2008, the company licensed the Doctor Who series from the BBC, launching two concurrent titles: Doctor Who Classics, which reprints colorized comic strips featuring the Fourth Doctor originally published in the late 1970s-early 1980s by Doctor Who Magazine, and Doctor Who: Agent Provocateur, an original six-part limited series featuring the Tenth Doctor and overseen and written by TV series script editor Gary Russell. An additional six-part limited series titled Doctor Who: The Forgotten started in mid-2008 by Tony Lee and Pia Guerra, as well as a series of monthly one-shot, self-contained stories. July 2009 saw the beginning of Doctor Who, an ongoing series featuring the Tenth Doctor, written by Tony Lee and illustrated by a rotating art team.
IDW formed an imprint with EA Games in late 2009, called EA Comics, to focus on adaptations of the latter's video games, with initial titles including Army of Two and Dragon Age.
September 6, 2011, for the 10th anniversary of 9/11, IDW teamed up Charlie Foxtrot Entertainment and released the graphic novel Code Word: Geronimo, written by retired Marine Corps Captain Dale Dye and Julia Dye, drawn by Gerry Kissell with inker Amin Amat. Code Word: Geronimo reached #22 on Diamond Comics top 100 list its first month after release.
Worthwhile Books and Blue Dream Studios
IDW launched two new imprints in 2008: Worthwhile Books, part of their children's books division, and Scott Christian Sava's Blue Dream Studios, previously a separate self-publishing venture.
IDW acquired the G.I. Joe comics license in May 2008 (previously held by Devil's Due Publishing) and released three new series under editor Andy Schmidt, from writers such as Chuck Dixon, Larry Hama and Christos Gage. Other comics were released in time to tie-in with the summer 2009 G.I. Joe film.
In March 2009, IDW forged an agreement with Mike Gold's Comicmix.com to publish print versions of Comicmix's online comic books. The agreement stipulates Comicmix must provide two comic books a month to IDW to publish, as well as graphic novels and trade paperbacks as demanded by the market. The books are published with both the IDW and Comicmix.com logos on the covers. As of the end of 2009, the agreement has produced print versions of the Grimjack series The Manx Cat; the Jon Sable series Ashes of Eden; Mark Wheatley and Robert Tinnell's pulp hero series Lone Justice; the graphic novel Demons of Sherwood by Tinnell and Bo Hampton; and a graphic novel collecting Trevor von Eeden's The Original Johnson. A collection of Munden's Bar stories original to Comicmix's website is also forthcoming.
In 2004, 2005 and 2006 IDW was named Publisher of the Year by Diamond Comic Distributors.
Adaptations in other media
Konami acquired the video game rights, and minority ownership, in IDW's CVO: Covert Vampiric Operations.
30 Days of Night has been adapted into a film of the same name in 2007, starring Josh Hartnett and Melissa George, directed by David Slade and produced by Spider-Man director Sam Raimi. It is distributed by Columbia Pictures.
Dimension Films has an option on two Steve Niles/IDW properties: Wake the Dead, with X2 screenwriter Michael Dougherty attached to write, and Hyde, with Mike Fleiss (The Bachelor, The Texas Chainsaw Massacre) attached to produce.
Paramount has an option on the Steve Niles/IDW property Aleister Arcane.
The motion comic version of Transformers: Movie Prequel titled Transformers: Beginnings (albeit excluding characters not present in the movie) is included in the Transformers DVD.
External links
Community content is available under
CC-BY-SA
unless otherwise noted.