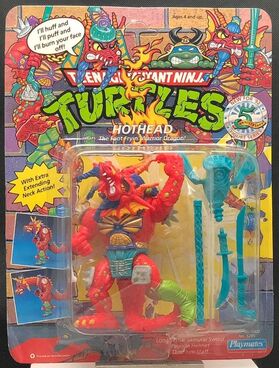 The Foot Fryin' Warrior Dragon!
Vital Dragtistics
Favorite Food: Barbecued anything
Height: 30' with fully extended neck

While battlin' a blaze, a fireman in Old Town broke an enchanted dragon-shaped flask. Suddenly, a mystical cloud covered the sky and the fireman disappeared. Out of the scorchin' heat arose the super-Samurai spirit of a dragon-genie. Known as Hothead to his Turtle friends because of his blazin' breath and quick temper, this scaly-skinned Samurai serpent can put out any fire, except his own. His fiery features include the classic, long lethal Samurai sword. And Hothead's no defenseless dragon with his dim sum staff and pagoda helmet. The Foot Clan better watch out - Hothead's got a hankerin' for barbecued Shredder-kebab!
Accessories
Long Lethal Samurai Sword,
Pagoda Helmet,
Dim Sum Staff with detachable Ninja Knife
Gallery