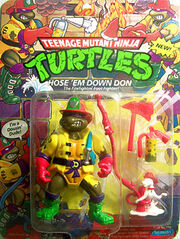 The Firefightin' Foot Fighter!
Accessories: Easy-Access Axe, Sizzle-fizzle Sewer Seltzer Bottle, Fightin' Fire Hydrant with Hose
Favorite Phrase: "Ouch!"
Favorite Color: Fire Engine Red
Chill out and cool down, 'cause Hose 'em Down Don is blazin' a trail through the scorchin' sewers! The heat is on as this frantic firefightin' Foot fighter sizzles into action. Hose 'em Down Don's a flame-fightin' fool who won't rest till all hot-headed hoodlums are locked away. Foot fiends can run, but they can't hide from Hose 'em Down Don's sizzle-fizzle sewer seltzer bottle. And if those mechanical menaces hide behind closed doors, Don's easy-access axe is the perfect pass key! Shredder's metallic mutants will wail as they're turned into short circuit sandwiches from Don's fast actin' fightin' fire hydrant. So be cool – and don't get hot under the collar: Hose 'em Down Don's on the job.
Gallery
Community content is available under
CC-BY-SA
unless otherwise noted.