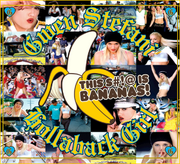 "Hollaback Girl"
is a song by American recording artist Gwen Stefani from her debut solo album, Love. Angel. Music. Baby. (2004). As part of Stefani's vision of creating "a silly dance record", the song is influenced by 1980s dance and pop music. The song was written by Stefani, Pharrell Williams, and Chad Hugo as a response to Courtney Love's statement that Stefani was a "cheerleader" in an interview with Seventeen magazine.
The song was released as the album's third single on March 15, 2005, and was one of the year's most popular songs, peaking inside the top ten on the majority of the charts it entered. It reached number one in Australia and the United States, where it became the first digital download to sell one million copies. "Hollaback Girl" received several award nominations, including Best Female Pop Vocal Performance and Record of the Year at the 48th Grammy Awards, yet it divided pop music critics. The CD single bears a "Parental Advisory: Explicit Content" label, although the album does not.
This song is featured in the 2014 turtles movie, it appears during Splinter's flashback where we see the turtles trying to watch Gwen Stefani's video clip in a Tv store.
Lyrics
Uh huh, this is my shit
All the girls stomp your feet like this

A few times I've been around that track
So it's not just gonna happen like that
Because I ain't no hollaback girl
I ain't no hollaback girl
I ain't no hollaback girl
A few times I've been around that track
So it's not just gonna happen like that
Because I ain't no hollaback girl
I ain't no hollaback girl
I ain't no hollaback girl
Ooooh ooh, this my shit, this my shit
Ooooh ooh, this my shit, this my shit
Ooooh ooh, this my shit, this my shit
Ooooh ooh, this my shit, this my shit

I heard that you were talking shit
And you didn't think that I would hear it
People hear you talking like that, getting everybody fired up
So I'm ready to attack, gonna lead the pack
Gonna get a touchdown, gonna take you out
That's right, put your pom-poms downs, getting everybody fired up
A few times I've been around that track
So it's not just gonna happen like that
Because I ain't no hollaback girl
I ain't no hollaback girl
I ain't no hollaback girl
A few times I've been around that track
So it's not just gonna happen like that
Because I ain't no hollaback girl
I ain't no hollaback girl
I ain't no hollaback girl
Ooooh ooh, this my shit, this my shit
Ooooh ooh, this my shit, this my shit
Ooooh ooh, this my shit, this my shit
Ooooh ooh, this my shit, this my shit

So that's right dude, meet me at the bleachers
No principals,no student-teachers
Both of us want to be the winner, but there can only be one
So I'm gonna fight, gonna give it my all
Gonna make you fall, gonna sock it to you
That's right I'm the last one standing, another one bites the dust
A few times I've been around that track
So it's not just gonna happen like that
Because I ain't no hollaback girl
I ain't no hollaback girl
I ain't no hollaback girl
A few times I've been around that track
So it's not just gonna happen like that
Because I ain't no hollaback girl
I ain't no hollaback girl
I ain't no hollaback girl
Ooooh ooh, this my shit, this my shit
Ooooh ooh, this my shit, this my shit
Ooooh ooh, this my shit, this my shit
Ooooh ooh, this my shit, this my shit

Let me hear you say this shit is bananas
B-A-N-A-N-A-S
(This shi* is bananas)
(B-A-N-A-N-A-S)
Again
This shit is bananas
B-A-N-A-N-A-S
(This shit is bananas)
(B-A-N-A-N-A-S)
A few times I've been around that track
So it's not just gonna happen like that
Because I ain't no hollaback girl
I ain't no hollaback girl
I ain't no hollaback girl
Ooooh ooh, this my shit, this my shit
Ooooh ooh, this my shit, this my shit
Ooooh ooh, this my shit, this my shit
Ooooh ooh, this my shit, this my shit

Videos