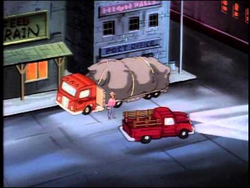 High Falls is a real-life small town in Upstate New York.
1987 TV series
Much of the episode Unidentified Flying Leonardo of the 1987 TV series is set in a fictional version of High Falls.
In this episode, an unidentified flying object is spotted at High Falls. When April O'Neil goes there to investigate for Channel 6, Leonardo follows her.