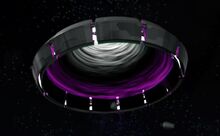 The Heart of Darkness is a black hole generator created by Professor Zayton Honeycutt as a power source. He sold it to Kraang Subprime for a large payment, who subsequently had the Kraang use it to destroy the Triceraton Homeworld. The surviving Triceratons then took the technology for their own to be used against the Kraang.
In Earth's Last Stand, the Fugitoid sacrifices himself to destroy the Heart of Darkness.
History
Fragment Locations
The first fragment: Xaava-Dal
The second fragment: The Cosmic Ocean of Varuna
The third and final fragment: The lost world of Magdomar
Gallery
Trivia
The device was never referred to as the "Heart of Darkness" by the main heroes; they only ever called it the Black Hole Generator.
Community content is available under
CC-BY-SA
unless otherwise noted.