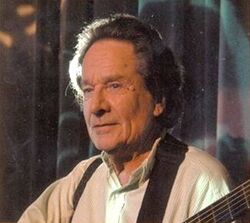 Hamilton Camp (born October 30, 1934 in London, died October 2, 2005 in Los Angeles; 70 years old) was an English-born American singer and actor. His most well-known voice acting work was as Fenton Crackshell, a.k.a. Gizmoduck, in the 1987 version of DuckTales. Additional roles he is known for include Greedy Smurf and Harmony Smurf (The Smurfs), Barney Rubble (The Flintstone Kids), and Ayam Aghoul (Disney's Aladdin).
Camp voiced Weesel in the 1987 TV series episode Shredder Triumphant!
Community content is available under
CC-BY-SA
unless otherwise noted.