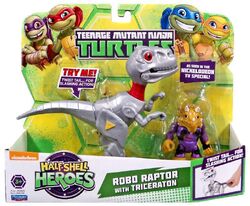 Blast to the Past!
Description
The Half-Shell Heroes are going back in time for the ultimate rumble in the jungle! The Turtles and their pizza-loving prehistoric pets must stop a sinister alien dino race from changing Earth's future forever. Dino-mite!
Triceraton controls the Raptor!
Ages 3 and up.
Special Feature
Twist Tail . . . For Slashing Action!

Gallery