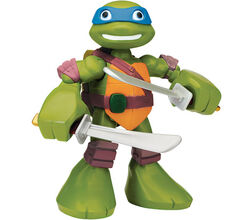 HSH Mega Mutant Leonardo was a 2014 action figure.
Description
Coming out of their shells for the very first time, the Half-Shell Heroes are ready for non-stop ninja adventure! You can join the fun-loving brothers in their pizza-fueled missions as they team up to mess with menacing mutants and stop the Shredder. You can collect the entire world of Half Shell Heroes!
Mega Mutant Leo has multiple moves, sound effects, and phrases! Figure stands 12" high.
Ages 3 and up.
Place Leo's katana in his hands for sword skill training. Squeeze lever on back shell handle to extend his arms for sword-swinging actions.
Set switch on back shell to "katana" and Leo will make sword sounds when his arms are triggered.
Set switch to "hand" and remove the swords for karate chopping motions and sound effects.
Turn back shell handle right or left and Leo will make side kicks!
Press the Turtle Communicator on his belt to hear Leo speak.
Eyes move in different directions in response to movements!
Articulation
Ball Joint Head
Swivel Hinge Shoulders
Hinge Elbows
Accessories
Gallery
Videos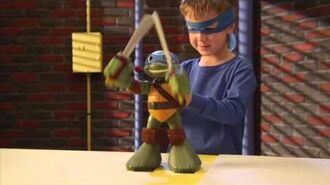 Community content is available under
CC-BY-SA
unless otherwise noted.