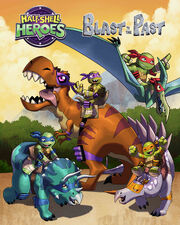 Half-Shell Heroes: Blast to the Past is an upcoming one-hour TMNT TV special on Nickelodeon, debuting Sunday, November 22.
Synopsis
Told in the style of Playmates' Half-Shell Heroes action figure line, the storyline finds the Turtles going back in time to the Jurassic Era, where they encounter friendly dinosaurs from the past and dangerous aliens from the future who have a nefarious plan of their own. However, things get even more complicated when Triceritons, Bebop and Rocksteady show up!
Notes
Unlike the current CG-animated series on Nick, Half-Shell Heroes will be 2D-animated (as you can see from the new poster above).
Book
Random House will also be putting out a Blast to the Past book (see cover below) this September, while Playmates will release new dino toys in the fall to coincide with the special.
Gallery