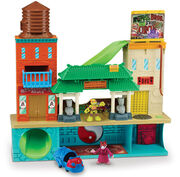 Description
The Half-Shell Heroes are ready for non-stop ninja adventure! Use this Super Sewer HQ playset to recreate the Turtles' pizza-fueled missions—or create new ones from your own imagination.
Set includes exclusive T-Rawket vehicle and Mikey and Splinter figures! 19" high.
Ages 3 and up.
Lots of places to put your Half Shell Heroes action figures!
Super Sewer HQ includes 50 phrases and sound effects!
Additional action figures sold separately.
Swing down and deliver a drainpipe drop kick!
Go for a sewer slide on the T-Rawket!
Kick the Foot outta town for good!
Wipe out menacing mutants with the water tower slide!
Trick 'em with the sneaky sewer cover trap door!
Articulation
Swivel Head
Swivel Hinge Shoulders
Swivel Arms
Hinge Hips
Notes
The secret sewer is a playset from the Half Shell Heroes preschool segment
This set presents the same china town entrance and billboard seen in the cartoon
Gallery
Videos
Community content is available under
CC-BY-SA
unless otherwise noted.