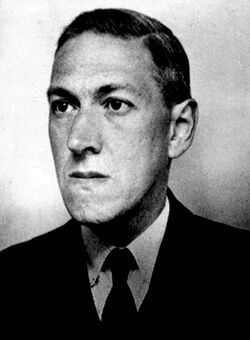 Howard Philips Lovecraft (August 20, 1890 - March 15, 1937; aged 46) was an American author, whose works in the horror genre have become widely celebrated and have led him to be considered the most influential horror author in American history—although all of his acclaim was posthumous.
As Lovecraft had been dead decades before Teenage Mutant Ninja Turtles even existed, he very obviously had no direct hand in any TMNT projects. However, his reputation in modern times has made references to him and his works ubiquitous, including throughout many incarnations of TMNT.
The cult and monster appearing in "Splinter No More" have a distinctly Lovecraftian flavor to them.
External links