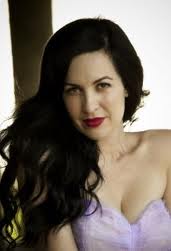 Grey DeLisle-Griffin (pronounced De-lyle; born Erin Grey Van Oosbree; August 24, 1973; 46 years old) is a voice actress, singer-songwriter, and comedienne of Norwegian, Mexican, French, and Irish descent. To date, she has released four solo albums and has featured on the tribute album Anchored in Love: A Tribute to June Carter Cash and film soundtrack of Loggerheads.
DeLisle has had many roles in television programs such as Kimiko Tohomiko in Xiaolin Showdown, Sam Manson in Danny Phantom, Princess Azula in Avatar: The Last Airbender, Mandy in The Grim Adventures of Billy and Mandy, the current voice of Daphne Blake in the Scooby-Doo series and Vicky in The Fairly OddParents. DeLisle has also had voice acting roles in many computer and video games, such as Yangja and Yoshen in Escape from Monkey Island, numerous characters in Baldur's Gate II: Shadows of Amn, Tomb Raider: Anniversary and Tomb Raider: Underworld as Jacqueline Natla and several Star Wars games. Most recently she is featured in the game Diablo III, as the voice for the female wizard. In addition to her numerous English-speaking roles, DeLisle (who also speaks Japanese) also voices the character Yumi in the television program Hi Hi Puffy AmiYumi.
She provided additional voices in TMNT and two of the Mutant Cockroach Gang/Time Square Mascots members, Atomic Lass and Robot Vampire, in Rise of the TMNT.
Community content is available under
CC-BY-SA
unless otherwise noted.