(7 intermediate revisions by one other user not shown)
Line 1:
Line 1:
−

[[File:Spin_prod_929265212.jpg|thumb]]

+

[[File:Spin_prod_929265212.jpg|]]

−

Bush-whacking Wheeed Weapon!

+

Bush-whacking Weapon!

 
 
 

==Description==

 

==Description==

−

It's an all-out turf war as the Turtles batten down the hedges, using this grass-guzzling green machine to clip the Kraang and trim the Foot in a mutant mow down!

+

It's an all-out turf war as the Turtles batten down the hedges, using this grass-guzzling green machine to clip the Kraang and trim the Foot in a mutant mow down!

 

*Tri-tip Dart Lawn-chers

 

*Tri-tip Dart Lawn-chers

 

*Shuriken-shooting Silo

 

*Shuriken-shooting Silo

 

*8 Shuriken Discs

 

*8 Shuriken Discs

 

*Mutant Mulcher

 

*Mutant Mulcher

−

*Turf-Turff treads

+

*Turf- treads

 

*Co-Pilot Platform

 

*Co-Pilot Platform

 
 
Line 14:
Line 14:
 

*Works with most Turtle figures

 

*Works with most Turtle figures

 

*Figures sold separately

 

*Figures sold separately

−

*The colors demonstrated are merely illustrative, for they may vary (the gnome is unpaited).

+

*The colors demonstrated are merely illustrative, for they may vary.

 
 
 

==Gallery==

 

==Gallery==

 

<gallery orientation="square" spacing="small">

 

<gallery orientation="square" spacing="small">

−

spin_prod_929265212.jpg

 
 

spin_prod_929265312.jpg

 

spin_prod_929265312.jpg

 

spin_prod_929265412.jpg

 

spin_prod_929265412.jpg

Line 25:
Line 24:
 

spin_prod_929265512.jpg

 

spin_prod_929265512.jpg

 

</gallery>

 

</gallery>

⚫
 
−

[[Category:Teenage Mutant Ninja Turtles (2012-Present) Toyline]]

 
 

[[Category:Vehicle toys]]

 

[[Category:Vehicle toys]]

 
+

[[Category:Playmates toys]]

 
⚫
---
Latest revision as of 17:32, 9 July 2019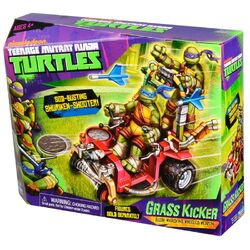 Bush-whacking Wheeled Weapon!
Description
It's an all-out turf war as the Turtles batten down the hedges, using this grass-guzzling green machine to clip the Kraang and trim the Foot in a mutant mow down!
Tri-tip Dart Lawn-chers
Shuriken-shooting Silo
8 Shuriken Discs
Mutant Mulcher
Turf-Tuff treads
Co-Pilot Platform
Notes
Works with most Turtle figures
Figures sold separately
The colors demonstrated are merely illustrative, for they may vary.
Gallery
Community content is available under
CC-BY-SA
unless otherwise noted.