"Bustin' makes me feel good. ♬"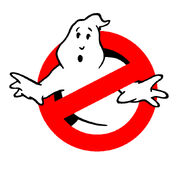 The Ghostbusters are a paranormal detective and mitigation team, well-known for their 1984 film and 1989 film as well as subsequent animated series The Real Ghostbusters and Extreme Ghostbusters.
Slimer, from The Real Ghostbusters series, appears in the Cartoon All-Stars To The Rescue special crossover.
The IDW Publishing's Ghostbusters teams up with the Ninja Turtles in the Teenage Mutant Ninja Turtles/Ghostbusters and Teenage Mutant Ninja Turtles/Ghostbusters 2 mini-series.
Roster
Ghostbusters
The original fantasy comedy Ghostbusters is about the adventures of parapsychologists Venkman, Stantz and Spengler and their friends against paranormal activities that haunt New York City. After their release from their university, the three scientists founded a private Ghostbusters agency that meets the spreading apparitions with high technology. However, the ghosts turn out in each of their adventure as a prelude to a larger paranormal invasion of a powerful, sinister entity that seeks to subjugate the whole world.
The film premiered in 1984 and became a box office hit, paving the way for an entire franchise their has been the sequel Ghostbusters II (1989), the animated series The Real Ghostbusters (1986-1991) and Extreme Ghostbusters (1997), the last two media play in their own continuity.
In addition, Ghostbusters: The Video Game was published in 2009, which technically takes place two years after Ghostbusters II, and thus represents the unofficial sequel. The video game Ghostbusters are voiced by their original actors.
Ghostbusters and Teenage Mutant Ninja Turtles
See also
External links
Community content is available under
CC-BY-SA
unless otherwise noted.