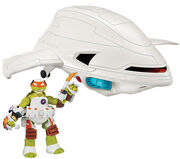 With Exclusive Space Mikey Figure! The Fugitoid Ship is a 2015 Dimension X toy, released together with a Michelangelo action figure.[1] It is based on Zayton Honeycutt's spacecraft the Ulixes from season 4 of the Nickelodeon series.
Description
In Dimension X, the Fugitoid's fast-flying spaceship is the only one capable of out-maneuvering the Triceratons' furious assault. Mikey is at the controls of the Space Speeder and is pushing the engines to full, streaking like a shooting star into the epic final battle. Can he fracture the Triceraton Armada and save Earth from total annihilation?
Includes exclusive Space Captain Mikey action figure, Plasma Pulsing Projectiles, and full control cockpit for Mikey!
Accessories
Articulation
Ball Joint Head
Swivel Hinge Shoulders
Swivel Hinge Elbows
Swivel Wrists
Swivel Hinge Hips
Swivel Hinge Knees
Features
Notes
Gallery
References
Community content is available under
CC-BY-SA
unless otherwise noted.