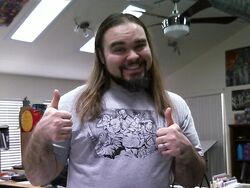 Freddie E. Williams II is an American comic book artist best known for Robin. He also worked on He-man/Thundercats, 52, First Strike, Voyage to the Stars, Injustice/Masters of the Universe, JSA All Stars, Green Arrow, Batman, JSA: Classified, Blue Beetle, Justice Society of America, Aquaman, The Flash, Kamandi Challenge with Kevin Eastman, Green Lantern Corps, Dark Horse Presents, Transformers, Firestorm, Outsiders, The Movement, Seven Soldiers: Mister Miracle, Legendary Star-Lord, Noble Causes, Savage Sword, G.I. Joe, Project Eon, Convergence Speed Force, Skyman, Transformers vs. the Terminator, Captain Atom, Star Trek/Green Lantern, X, Captain Midnight, Brain Boy and Ghostbusters.
Credits
External Link
Community content is available under
CC-BY-SA
unless otherwise noted.