Footski
Production information
Technical specifications
Usage
Era(s)

1987-1996 animated TV series

Affiliation

  [Source]
The
Footski
is a
Foot Clan
hydrofaring transport vehicle.
1987 series
Shredder, Bebop and Rocksteady ride footskis down the underground river in the Bye, Bye, Fly episode,[1] and defeat the Turtles in a fight on the water.
Video games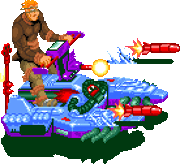 In the SNES Teenage Mutant Ninja Turtles: Turtles in Time the Rat King was seen riding the Footski at the sewer-water.
Toys
A toy version of this vehicle was released in 1989.
Gallery
References