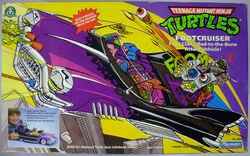 Foot Clan's Bad-to-the-Bone Attack Vehicle!
Description
The Footcruiser is a mostly black car with a purple front. It can be converted into a flight mode.
Accessories/Features
Bad-to-the-Bone Tinted Windshield, Toe-jammin' Rotatin ' Gattlin' Gun, Foot Turret Weapons Pod with Retractable Cover, Detachable Eye Spy Missiles, Turtle Leather Steering Wheel, Turtle-seeking Antennas, Ooze Blasters, Turtle Eliminators,Metallized Turtle-munching Grill and Bumpers, Retractable Wheels, Official Foot Hubcaps, Disgusting "Ooze Flame" Graphics, Running Boards Hold Extra Figures,Shell-piercing Rear Fins,Retromutagen Containment Tank
"Bad-to-the-bone, it's the Footcruiser - the space age '59 Caddy that shifts from overdrive to techno-glide to cruise on the ground, in the air...hey, this thing goes everywhere! When the teen Neutrinos from Dimension X gave their h-tech space cruiser to the Turtles, the Foot Clan couldn't wait to snatch it! And now, tricked-out for total Turtle destruction, this loathsome lowrider is fully equipped to battle the Turtle Party Wagon for control of the city streets. It's munchin', crunchin' grillwork turns Turtles into Turtle meat. And when the Footcruiser takes to the air, skimming the skyscrapers, Turtles beware! The awesome fire-power of its shell-piercing gattling gun will send smart Turtles scurrying . Its eye spy missiles seek out Turtles wherever they reside ! Get a clue! There''s no place but your shell to hide!"
Gallery
Community content is available under
CC-BY-SA
unless otherwise noted.