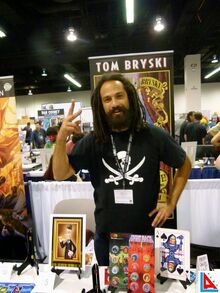 Felipe Smith is an Ohio-born, Buenos Aires-raised Writer/Artist and graduate of The School of the Art Institute of Chicago (SAIC). His comics career began in 2005 with his first 3-volume graphic novel series, MBQ. Upon its completion in 2008, he moved from Los Angeles to Tokyo, Japan to publish his second 3-volume graphic novel series, PEEPO CHOO, initially serialized by Kodansha for a Japanese audience and later released in English by Vertical Inc. After working 4 years in the Japanese market, he returned to LA in 2012 to join Nickelodeon's Teenage Mutant Ninja Turtles animated TV series as a full time character designer. In 2014 Marvel Comics announces him as the writer of monthly All-New Ghost Rider and creator of its protagonist, Robbie Reyes. In 2016 Felipe's co-creation for Marvel crossed over from Publishing to Television with Robbie Reyes' introduction to Marvel's Agents of S.H.I.E.L.D., played by Gabriel Luna on ABC.
He drew the variant cover for Teenage Mutant Ninja Turtles New Animated Adventures #6.
Community content is available under
CC-BY-SA
unless otherwise noted.