Eric Bauza (born December 7, 1979 in Toronto, Ontario; 40 years old) is a Filipino-Canadian-American[1][2] voice actor and artist. He voices Tigerclaw, Hun, the Fulci Twins, The Hammer and additional roles, including some Triceratons, in the 2012 TV series. He's also voiced Donatello in the animated short TMNT: Don VS Raph, Splinter and various voice roles on Rise of the Teenage Mutant Ninja Turtles. He also voiced Leonardo in the short Turtles Take Time (and Space), and in Batman vs. Teenage Mutant Ninja Turtles.
He is best known voicing as The Beagle Boys from DuckTales, White Pantera/Rodolfo Rivera from El Tigre: The Adventures of Manny Rivera, Foop from The Fairly OddParents, Patches from Bunnicula, Marvin the Martian from The Looney Tunes Show and all of The Banana Splits, expect for the mute Snorky the Elephant in The Banana Splits Movie on Syfy.
Trivia
He once went to a recording session dressed as Tiger Claw.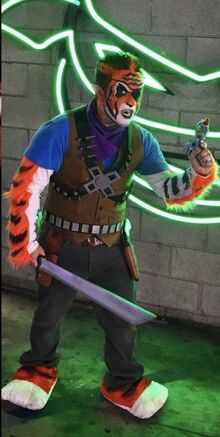 Reference
Community content is available under
CC-BY-SA
unless otherwise noted.