The Eiffel Tower (French: Tour Eiffel) is a tower in of Paris in France. It is a landmark of the city.
Teenage Mutant Ninja Turtles appearances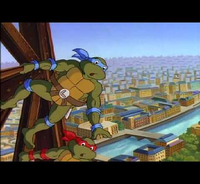 The tower plays an important role in the plots of the episodes "Tower of Power" and "Rust Never Sleeps" of the 1987 animated series. In "Tower of Power", Shredder and Krang try to use the tower as a supermagnet to pull the Technodrome to Earth.[1] In "Rust Never Sleeps", they try to rust its metals.[2]
The Ninja Turtles also visit it in the 1990 video game World Tour. Two of them are seen swinging across the sky with their grappling hooks attached to the top of the tower.
References
Community content is available under
CC-BY-SA
unless otherwise noted.