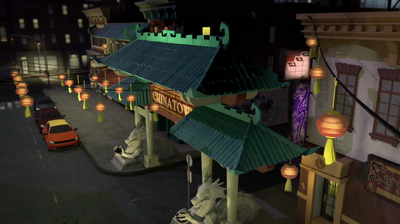 Dragon Gate is a fictional recurring location in the 2012 TV series. It is a green-roofed arch that marks the entrance of a local Chinatown in New York City. It is occasionally seen in the series as part of the recurring scenery in the city. It carries a sign with the words "Welcome to Chinatown".
History
In Follow the Leader, when the turtles take a break from hunting for mutagen canisters, Leonardo decides to train his brothers by playing "king of the mountain" with them by "defending" the roof of Dragon Gate and challenging his brothers to pass his defense position using only traditional closed-quarters fighting. But all three brothers break this rule and pass Leo any way they can.
Later in this episode, the one-on-one battle between Leo and Karai moves to the top of Dragon Gate. Leo falls off, but actually hides clinging to the underside ceiling of the arch, anchored with his katana. This confounds Karai enough for Leo to emerge and ambush her from behind, knocking her off the arch. When she falls, she finds Leo with his katana pointed to her head, having lost the battle to Leo.
In Vengeance is Mine, after the turtles rescue Karai from the Foot Clan, their Shellraiser is pursued by the Shredder's subordinates, including Tiger Claw and Fishface. Tiger Claw manages to mount the Shellraiser's roof while it is in motion, and attacks from above. But the Shellraiser is driven through Dragon Gate, and Tiger Claw's body collides at high speed with the Dragon Gate itself, ending his pursuit.
Gallery
Trivia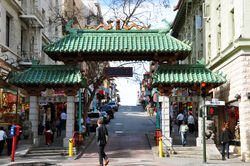 Community content is available under
CC-BY-SA
unless otherwise noted.