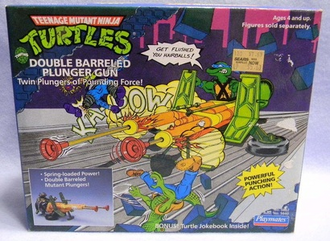 Twin Plungers of Pounding Force!
Accessories/Features
Spring Loaded, Independently Powered Mutant Plungers
Footfinder Telescope with Cross-hairs
Twin Turtle Shields
Turtle Safety Belt
Comfortable Toilet Seat Ring Seat
Explosive Sewer Gas Launching System
Flush Launcher Strings
Sure-grip Surplus Radical Tires
Rusty, Trusty Water Heater Tripod
"Are your streets clogged with scum like Shredder? Simply pick up the phone and call the Teenage Mutant Ninja Turtles. On call for emergencies - the more disgusting the better - the Turtles attack clogs with gusto with their powerful portable artillery piece, the Double Barreled Plunger Gun. Assembled from a sewer gas-burning water heater, an abandoned anti-aircraft gun and two used plumber's helpers, this go-anywhere smash-anything mutant basher packs a powerful one-two punch to repel invaders or break through the toughest barricade. Yo, Turtles!"
Gallery
Community content is available under
CC-BY-SA
unless otherwise noted.