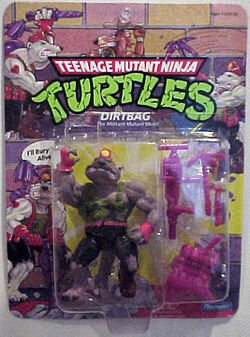 The Militant Mutant Mole!
Vital moletistics
Accessories: Jack Hammer Gun, Chisel Knife, 4-pointed Pick and Rat Pack
Birthplace: City subway
Weight: 240 lbs. (dirty)
Favorite Food: Splinter on a shingle
Favorite Restaurant: The Cave Inn
Put your ear to the ground and listen for Dirtbag, the militant mutant mole man. He's a crazy coal miner and a mad mole all rolled into one. Dirtbag tunnels through sewers like a chisel through cheese. This mutant mole's main mission is to seek out and destroy his arch enemy Splinter. And sewer searchin' can't be easier with Dirtbag's gear: a rancid rat pack and chisel knife. The sewers are sure to crumble under the weight of Dirtbag's jack hammer gun – the deadliest pneumatic tool in the world! And Splinter better stop snoozin' in his meditation chamber, 'cause Dirtbag's got a mind-numbing 4-pointed pick. Nothing can stop this tunneling terror – not walls, not boulders – maybe not even the Turtles! So listen hard and listen long, for the next sound you hear could be Splinter splintering!
Notes
This figure was released in 1991 in the US and 1992 in the UK.
Gallery
Community content is available under
CC-BY-SA
unless otherwise noted.