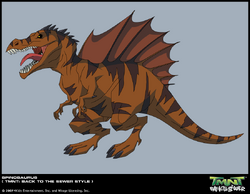 Dinosaurs are a diverse group of animals of the clade Dinosauria. They first appeared on Earth during the Triassic period, 231.4 million years ago, and were the dominant terrestrial vertebrates for 135 million years, from the beginning of the Jurassic (about 201 million years ago) until the end of the Cretaceous (65 million years ago), when the Cretaceous–Paleogene extinction event led to the extinction of most dinosaur groups (and some three-quarters of plant and animal species on Earth) at the close of the Mesozoic Era.
The fossil record indicates that birds evolved from theropod dinosaurs during the Jurassic Period and, consequently, they are considered a subgroup of dinosaurs. Some birds survived the extinction event that occurred 65 million years ago, and their descendants continue the dinosaur lineage to the present day.
The appearance of Dinosaurs in the various TMNT universes have been a common occurrence over the years. In addition to the anthropomorphic dinosaur samurai Chote, and dinosaur-like aliens of Triceratons and Styracodons, the Ninja Turtles have run into actual dinosaurs many times.
Mirage
 YOU'RE NOT ON 
 NICKTOONS 
 ANYMORE! 

Some TMNT stuff really isn't for little kids.
Tales of the Teenage Mutant Ninja Turtles Vol.1, #7 - Savanti Romero lures the Turtles into the Cretaceous Era. Here, he has multiple dinosaurs at his beck and call, including Deinonychuses, a Tyrannosaurus, and a Pterosaur Pterodactyl. The Turtles use a Triceratops to their advantage in combat against Romero.
In the frontispiece for Tales of the TMNT Vol. 1 #7, in Tales of the Teenage Mutant Ninja Turtles, Original Vol. 1 Series, Treasury Edition, the four elderly Turtles, back in the prehistoric age, ride atop a triceratops.
Spinal Tapped - Savanti has a tiny dinosaur servant that was magically transformed from an ordinary sea lizard.
Teenage Mutant Ninja Turtles Attack!!! - Henry presses some buttons and accidentally unleashes a number of dinosaurs.
In Volume 4, talking raptors appear.
1987 series
Turtles at the Earth's Core - The turtles meet a friendly Diplodocus they named Dippy in an underground cave. Other dinosaurs that appear in this episode are Tyrannosaurus rex, Triceratops, Stegosaurus, Allosaurus,  Pachycephalosaurus, Archaeopteryx, and Brachiosaurus..
Leonardo is Missing - There is a Pachycephalosaurus, a Tyrannosaurus Rex and a biped Triceratops in this episode.
Enter: Krakus - After being pushed into the Prehistoric past, Titanus gets chased by an enraged Pachyrhinosaurus.
Magazine
Parasaurolophus appear in the Teenage Mutant Ninja Turtles Magazine story Dino A Go-Go.
TMNT Adventures
 YOU'RE NOT ON 
 NICKTOONS 
 ANYMORE! 

Some TMNT stuff really isn't for little kids.
Dinosaurs appear in Teenage Mutant Ninja Turtles Adventures issue #15.
2003 series
Fast Forward
Timing is Everything, Sh'Okanabo and Viral create a Time Window, which goes haywire. The window ends up summoning entities from several different eras of time, including dinosaurs, Vikings, and The Shredder and his Foot Ninja. The dinosaurs seen include Pterodactyl, Tyrannosaurus, and Triceratops. A Triceraton postal worker sees a rampaging Triceratops and gives a double thumbs-up.
Back to the Sewer
Tempus Fugit sees the Turtles being hurled through various different times, including an era populated by dinosaurs, the Middle Ages, and a distant future that is occupied by three different Shredders. The Turtles enlisted the assistance of a Triceratops, dubbed "Zog II" by Mikey, against a Spinosaurus.
Incredible Shrinking Serling - Serling encountered a Velociraptor during his random time jumps.
Web Wranglers - A T-Rex is briefly seen amongst the animals Cyber Shredder has made real from photos on the internet, and had made plans to transport into the real world as a mutated monster.
2012 series
Mayhem From Mutant Island
Monstrous mutant dinosaurs are the central theme to the TMNT in Mayhem From Mutant Island mini-episodes. The first few chapters feature the Turtles batting hideous mutants known as Chomper Bug, Scorpion, Winged Dino, and Stego, according to the Playmates action figures (the bug creatures are also referred to as dinosaurs in the story, likely just as a method of convenience). The Turtles later encounter a T-Rex (with the same design as the one in Web Wranglers).
Half-Shell Heroes: Blast to the Past
Video Games
Teenage Mutant Ninja Turtles: Turtles in Time - Dinosaurs make appearences through the game, at the level Prehistoric Turtlesaurus. Teenage Mutant Ninja Turtles: Tournament Fighters - Two T-Rexs can be seen in the background of Wingnuts stage in the SNES version.
IDW Comics
 YOU'RE NOT ON 
 NICKTOONS 
 ANYMORE! 

Some TMNT stuff really isn't for little kids.
Teenage Mutant Ninja Turtles: Turtles in Time issue 1 - The Ninja Turtles are sent back in time to the dinosaur era and there they meet a Protoceratops they named Pepperoni, other dinosaurs that appear are Therizinosaurus, Tyrannosaurus Rex, Triceratops, Quetzalcoatlus, Gallimimus, Saichania, Shantungosaurus, Velociraptors, and Saurolophus.
"I would have liked to have drawn some swimming dinosaurs, and it would have been fun to draw the Turtles dealing with something really big, like a Mamenchiasaurus. It would be fun to draw something at that scale."- Artist Sophie Campbell when asked if there was any kind of dinosaur that she wanted to add but couldn't. She also stated her favorite pre-historic animals are the Glyptodon and Deinonychus.
Pepperoni along with various other dinosaurs appear in the mini-series TMNT: Bebop & Rocksteady Destroy Everything!
Batman/Teenage Mutant Ninja Turtles
Toys
1988-1997
2003-Present
List of Dinosaurs
This is a list of dinosaurs that somehow appeared in the franchise.
Species
Alioramus
Allosaurus
Anhanguera
Ankylosaurus
Apatosaurus
Archaeopteryx
Brachiosaurus
Deinonychus
Diplodocus
Gallimimus
Iguanodon
Oviraptor
Pachycephalosaurus
Pachyrhinosaurus
Parasaurolophus
Protoceratops
Pteranodon
Pterodactyl
Quetzalcoatlus
Saichania
Saurolophus
Shantungosaurus
Spinosaurus
Stegosaurus
Styracosaurus
Tarbosaurus
Therizinosaurus
Triceratops
Velociraptor
Allies
Others
Community content is available under
CC-BY-SA
unless otherwise noted.