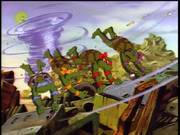 A Dimensional Teleporter is a device used by Shredder and Krang in the 1987 cartoon episode The Dimension X Story.
They use in an attempt to teleport the Ninja Turtles from Earth into the Technodrome on the Volcanic Asteroid. Shredder asks them to meet him at the Southern City Dump.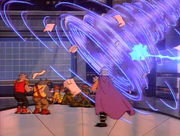 However, only Michelangelo, Raphael, April O'Neil, Vernon Fenwick and and Irma end up teleported.
Donatello and Leonardo instead try to repair Portable Portal Generator to reach the Technodrome.
Community content is available under
CC-BY-SA
unless otherwise noted.