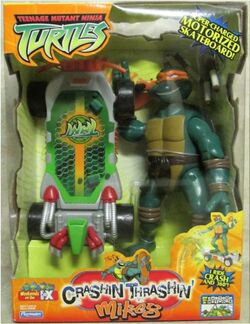 Michelangelo's Mondo Motorized Skateboard!
When Michelangelo asked Donatello to fix the trucks on his favorite skateboard he never dreamed his tech-crazy brother would hook them up to a super-charged engine! An engine that automatically shuts off when Mikey gets off (like Mikey says, "It won't stop 'til I drop!")! With its cool crashin' careenin' and thrashin' high speedin' and ability to go both in a straight line and in dizzyin' circles, Mikey's new skateboard is the raddest reptile racer around!
Accessories
Articulation
Rotating and Hinged Ankles
Hinged Knees
Rotating and Hinged Hips
Rotating and Hinged Shoulders
Hinged Elbows
Rotating Wrists
Individually Jointed Fingers With Two Hinges Each
Rotating Neck
Gallery
Community content is available under
CC-BY-SA
unless otherwise noted.