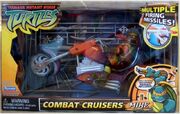 Armored Assault Motorcycles For Banzai Battles!
Choose a weapon, snap the battle armor shields over your bike's back tires, strap on your helmet, kick-start your Combat Cruiser and race off to the front lines in the ongoing battle against the forces of Shredder and the Foot!
Banzai Biker, Samurai Soldier, Ninja Turtle – Combat Cruiser Michelangelo is decked out in his biker best, ready to whup every vile villain, bad boy and punk pest! Combat Cruiser Michelangelo – wise-crackin' mutant joke-meister, ninjitsu nunchaku-knocker, and now the most rip-roarin' reptile road warrior of them all!

Accessories
Two Nunchakus
Helmet
Missiles
Rim Covers for the Rear Wheels
Rack of Miscellaneous Weapons
Articulation
Rotating and Hinged Hips
Rotating and Hinged Shoulders
Rotating Elbows
Rotating Wrists
Ball Jointed Neck
Gallery
Community content is available under
CC-BY-SA
unless otherwise noted.