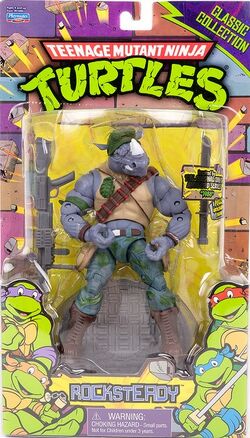 Description
The Classic Collection Action Figures reflect the look of the original TMNT characters from the 80's TV show. Each figure stands 6" tall, features multiple points of articulation and is authentically detailed to appeal to the true action figure collector.
Accessories
Helmet
Machette
Sniper Rifle
Manhole Cover Stand
Articulation
Ball Joint Head
Swivel Hinge Shoulders
Swivel Biceps
Double Hinge Elbows
Swivel Wrist
Swivel Feet
Double Hinge Knees
Swivel Hinge Hips
Ball Joint Waist
Community content is available under
CC-BY-SA
unless otherwise noted.