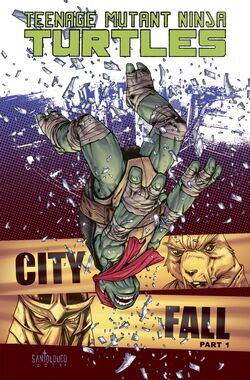 YOU'RE NOT ON 
 NICKTOONS 
 ANYMORE! 

Some TMNT stuff really isn't for little kids.
City Fall is the seventh story arc in IDW's TMNT continuity. It deals  with the Foot Clan becoming the predominant criminal force in New York City. This story comprises issues 21 through 28 and ties in to several one-shots in the micro-series as well. 
The Old Hob, Alopex, Karai, Hun, and Bebop & Rocksteady one-shots all take place during this story.  
Credits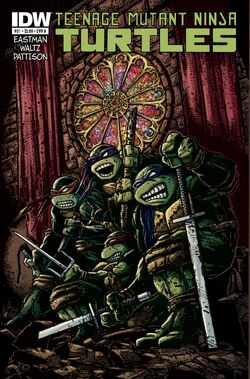 The Turtles are finishing up a patrol one night when a masked man appears out of nowhere and begins to fight them. The masked man taunts them relentlessly, showing them up with ease and using many different styles of martial arts. The masked man even knows about their hideout and their master, Splinter. The masked man leads them on a chase throughout the city, all the way back to the abandoned church. The masked man says that the Turtles are no match for him and he will now face their master. The Turtles say they would die before letting him pass. The masked man says this honors him, and takes off his mask, revealing himself to be Master Splinter in disguise. Splinter explains that he needed to do something drastic in order to show the Turtles how important training was with the increased warring between criminal factions.
The scene switches to Japan, where Dr. Miller has led the Shredder and the Foot to a derelict temple. Shredder orders some Foot ninja to start digging. They unearth a casket and open it, finding a still-living woman sleeping inside. Thus, the Shredder is reunited with Kitsune.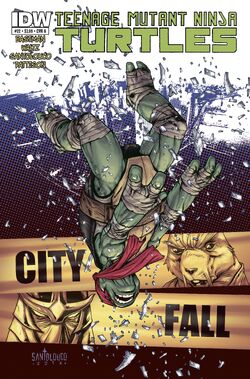 The issue begins with the Shredder detailing the Foot Clan's recent battles with the Savate to Kitsune. Shredder states he has a plan to defeat the Savate and their other rivals. 
Raphael and Casey are on one of their patrols and are taking a break outside the Skara Brae to check on Casey's dad. Suddenly they are ambushed by Foot soldiers. Their numbers are too great and they are both captured and thrown into the back of a van. Inside the van, Karai tells Raph that they are on the way to the docks. Raph breaks free and escapes, leaping from the van off a bridge into the East River. Karai is pleased, as that was part of the plan all along.
Back at the Turtles' hideout in the abandoned church, everyone else is doing their own thing when Raph storms in, explaining what happened to Casey and urging them all to go rescue him. Leonardo stresses the need to exercise caution before rushing into another trap. They arrive at the docks and see Casey on the ground, unconscious, guarded by Karai and Alopex. Donnie and Mikey swim towards the docks as Splinter, Leo and Raph watch from a rooftop as Shredder approaches Casey. Casey's friend Angel, getting off work, sees April sitting in her van waiting on the others and asks her what's going on. April fills her in. The Shredder announces to Splinter and the Turtles that he knows they are watching, raises Casey, now conscious, into the air, and impales him through the stomach with his gauntlet blades, severely wounding him. Raphael immediately charges Shredder, causing a whole legion of Foot ninja to attack. Angel, Donatello and Michelangelo grab Casey while Raph, Leo and Splinter fight the Foot. Once they have Casey in the car, they make to leave but Leonardo is hit with a tranquilizer dart and taken by the Foot. The others, not knowing where Leo is, are forced to leave without him to rush Casey to the hospital.
(Note: The Old Hob micro-issue takes place here between issues #22 and #23)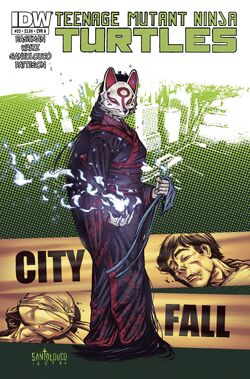 April, Angel, Splinter and Raphael rush Casey to the hospital while Donatello and Michelangelo search the area around the docks for Leonardo. Paralleling the scene, Shredder, Karai and Alopex rush Leonardo back to one of the Foot's hideouts. April and Angel arrive at the hospital and get Casey inside; Splinter and Raph head home to meet Donnie and Mikey. Arriving at their hideout, Shredder dismissed Karai and Alopex and brings Leo to Kitsune. Casey is brought to an operating room while Leo is brought to a room Kitsune has prepared for a magic ritual. 
At the Turtles' home, Donnie and Mikey present the only clue they could find to Splinter, one of Leo's katanas. However, they also show him the message they found scrawled on their wall when they arrived, an invitation from Hob to meet near the East River at midnight. At the Foot's hideout, Kitsune uses powerful dark magic to warp Leonardo's memories, altering them so that Splinter appears to be his enemy and the Shredder his ally. He even hallucinates that Splinter has killed his brothers, leaving him devastated.
In the hospital waiting room, Angel tells April about some of her and Casey's history – how their dad's were friends who had them around the same time, letting them grow up together. Angel tells April how she lost her mother in a car accident and didn't cope well, taking to running with the street gange the Purple Dragons. It was Casey that kept her from getting too deep into the gang lifestyle and winding up in jail or dead. The doctor brings them into Casey's room and tells them his condition is stable but he will likely never play hockey again. April wonders if they should call Casey's dad, but Angel already told her dad to tell him, saying he'd probably be too drunk to care anyways. Casey's dad, who was about to enter the room, overhears, and leaves.
Splinter, Raphael, Donatello and Michelangelo arrive at the meeting point and find Hob with Slash. Hob tells them he knows where Leonardo is, and he can help them get him back. Hob says he can sense tension in the city escalating, and they need to choose sides. He offers to partner up with the Turtles, despite their past altercations. Splinter says if he really can lead them to Leonardo, he will consider the offer. At the Foot's hideout, Kitsune's work is complete, and Leonardo accepts the Shredder as his new master.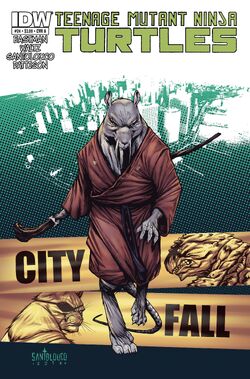 The Shredder walks in on Karai practicing a Korean form of martial arts, geommu. He tells her to get ready to battle Splinter and the Turtles.
Casey Jones is still unconscious from surgery. In his imagination he is at the old pond where he used to practice hockey. He sees his mother as an angel and she tells him to wake up. Casey wakes and asks April and Angel to tell him what's going on with the Turtles. 
Old Hob has lead Splinter, Raphael, Donatello and Michelangelo to the Foot's hideout where Leonardo is being held. Due to their past history, Hob has to assure them he's telling the truth. While Splinter, Raph and Don debate whether or not they can trust Hob, Mikey introduces Slash to candy, burrying the hatchet. Hob leads Splinter and the three Turtles to a door and picks the lock, letting them enter before him. They enter the pitch black room, when suddenly Hob slams the door shut and locks it. The lights come on and the Shredder stands before them, flanked by Karai and Alopex. Splinter states that they have come simply to retrieve Leonardo and that no bloodshed is necessary, although they will use deadly force if they are forced to. Shredder says that as they speak, his Foot ninja are staging a multi-pronged attack, cementing the Foot's hold on the criminal underside of the city. Shredder says that he will end Splinter and the Turtles as well, and that he has already ended Leonardo. At this, Splinter attacks the Shredder, prompting Leonardo to step forth, clad in Foot Clan regalia. He says he will not allow Splinter to harm his master. Leo attacks Splinter, saying he is not his son. Raphael charges Leonardo, but Leo blocks him. He attacks Raph, Don and Mikey all at once, but because they're holding back he defeats them all. Shredder tells him not to finish Splinter, as he wants to kill him himself, but he may slay the rest. Splinter and the three Turtles attempt to fight their way to the door, but a whole legion of Foot ninja have surrounded them. Just when the battle seems hopeless, Slash bursts through the large warehouse door, allowing the group to escape. Hob explains that he had to make Shredder think he had delivered Splinter and the Turtles to him to keep him off his back, and that his offer to team-up still stands.  
(Note: the Alopex and then the Karai micro-issues both take place here in-between issues #24 and #25)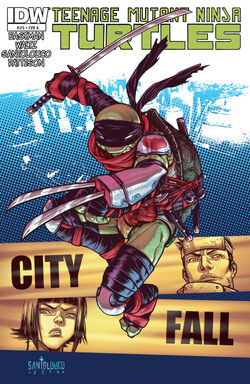 The issue begins approximately two weeks after the events of City Fall Part 3. Karai is leading a group of Foot Clan ninja in delivering a shipment of equipment, when they are attacked by the Savate. The Savate have come in greater numbers, and the Foot are about to be finished off when Leonardo shows up with more Foot ninja. The Foot dispose of all but one Savate ninja, letting him go free to relay a message to Viktor, the leader of the Savate, that the Foot Clan will tolerate no disobedience from the other criminal organizations. 
April is visiting Casey in the hospital and they are video-chatting with Donatello and Michelangelo on a laptop. Donatello tells them about how they've all been looking for Leonardo and how Raphael is taking it pretty rough. Don also tells them Master Splinter is out on a mission with Old Hob and Slash. After the video call, Casey expresses his displeasure with being confined to a hospital bed. April reminds him that it's the best place for him at the moment, and that she wishes Leo was found just as much as everyone else because she knows the pain of losing someone, as she thought she had lost Casey when the Shredder injured him. The two kiss. 
Raphael is attempting to beat information on the Foot out of a low-life thug outside the Skara Brae (one of the thugs from the TMNT 2012 Annual). The thug doesn't have any real information to give him, but does tell him about two corrupt cops who are being paid off by the Foot and the Savate, among other criminal organizations. 
Viktor and some Savate ninja have just finished off a group of Foot ninja. Marcello, an enforcer for the Italian Mafia arrives in a car to take Viktor to a meeting of all the crime family bosses. They are meeting to discuss the recent escalating conflict between the Foot Clan and all the other families. The head of the Mafia, Antonio, voices his displeasure at the Savate's violent approach to dealing with the Foot. Viktor says they have it handled when Marcello speaks out, causing Viktor to slay him, to emphasize his point.
Shredder is on the rooftop of one of the Foot's hideouts falconing while Kitsune gardens while Leonardo and Karai report in. Leonardo tells him that their plan to launch a surprise ambush on the Savate worked, using Karai and some Foot as bait. Karai voices her displeasure about being used as bait. Kitsune learns that this was Leonardo's idea and not the Shredder's and is upset. As Karai and Leonardo are dismissed, Leonardo has a flashback to his previous life in Japan, seeing his mother and Master Splinter in his previous life as Hamato Yoshi, showing that the brainwashing has not been completely effective. Because of this, Shredder has had to forbid Leonardo from using lethal force in battle, as it may snap him out of the mind control put on him by Kitsune. A Foot ninja arrives with a package from the Savate for Shredder, containing a severed Foot ninja hand and a note that reads "WAR". Shredder tells Kitsune to hurry up and strengthen her hold on Leonardo, so that he may be effectively used during the coming battles. As long as Splinter and the Turtles live, Leonardo's mind control will not be one hundred percent. 
Arnold Jones is brooding in front of the bathroom mirror. He thinks back on overhearing Angel say that he deserved to be hurt in Casey's place. In a fit of rage, he breaks the bathroom mirror and rips off his shirt, revealing his Purple Dragon tattoo from his gangbanging days. 
Splinter enters a house with a Purple Dragon gang sign on it. Inside is Hob, in a very well-stocked room of guns and ammunition. Splinter tells him that if Hob helps them resuce Leonardo, he will agree to Hob's proposal and team-up with him and Slash. Hob agrees, on the condition that Splinter help him with something beforehand.
Raphael has tracked down the two corrupt cops (also from the 2012 TMNT Annual). Raphael is about to start trying to beat more information out of them when Donatello and Michelangelo show up and tell him he's out of control. Raphael is about to attack Donatello for stopping him when Michelangelo tells him to knock it off. Raphael says he was trying so hard to find Leonardo because he blames the whole situation on himself. They decide that if they really want to find Leonardo, they need to start acting like the team he trained them to be. 
Shredder stands on a rooftop with Leonardo, Karai, and Alopex, scoping out the Savate headquarters and planning their attack. Shredder and Leonardo will lead the first wave of attack, and Karai and Alopex will lead the second wave and act as a clean-up crew. As they board a helicopter back to the Foot's hideout, Alopex asks Karai if she's upset at being upstaged by Leonardo. Karai says the wise warrior never overestimates their importance, but also always has a back-up plan. 
The final scene shows Bebop and Rocksteady in the midst of mutating into their warthog and rhinoceros hybrid forms.
(Note: the Hun micro-issue takes place here between issues #25 and #26)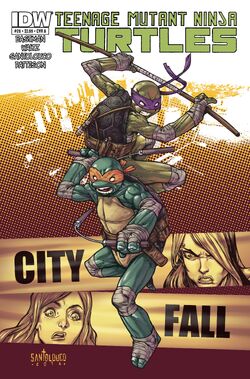 Leonardo, dreaming, walks through a forest with his mother Tang Shen, telling her that he feels something isn't right, like he's missing something but he isn't sure what. His mother tells him that she feels she is to blame. Leonardo tells her it's not her fault. Tang Shen tells him that when he finds out what he has lost, he will know who is to blame.
Angel is patrolling her neighborhood when she comes across two thugs robbing a liquor store. She takes out one but the other pulls a gun on her. Luckily, right at that moment Raphael shows up and incapacitates the thug with the gun. Raphael asks why the other Purple Dragons aren't with her; she tells him they're currently going through some organizational issues (see the Hun micro-issue). Angel tells him that even if the other Dragons aren't down to help the Turtles, she'll always have their back. 
Woody Dirkins is making a pizza delivery when Michelangelo approaches him, seeking any information about the Foot Clan and Leonardo. Before he answers, Woody apologizes for abandoning Michelangelo, and Michelangelo forgives him. Woody tells him he has heard some murmurings about the Foot and the street war that's coming. 
Donatello and April approach a warehouse where Donatello's friend Harold Lilja has set up a new laboratory. Harold initially refuses to let April in as he told Donatello to come alone, but April manages to sweet talk her way in. Donatello tells Harold that his family is having serious trouble with one of their enemies (The Shredder and the Foot), and they could really use a technological advantage. Harold tells them he has been upgrading his anti-gravity gauntlets and light-refraction devices, but none of it has been tested. Harold tells them that if he does let them borrow anything, it's at their own risk. 
Two black helicopters approach the Savate's headquarters. Inside, Victor is telling his troops how close they've come to ruling the city, with all of their opponents defeated save one: the Foot Clan. He says they will strike when the Foot least expects it. At that moment, Shredder, Leonardo, and a handful of Foot ninja burst in through the window and attack. Leonardo reports to Karai that they've begun the infiltration and tells her to stand by for his command. Karai says she understands, but then ignores his order and leads Alopex and more Foot ninja in an attack on the ground floor of the building. Upstairs, Victor attempts to flee and Shredder orders Leonardo to pursue him. 
Splinter, Old Hob, and Slash stand on a hill overlooking StockGen. Hob explains the favor he needs from Splinter before he'll help him rescue Leonardo: retrieve some mutagen, so Hob can build a mutant army. Splinter tells him his plan is wrong, but reluctantly sets out to get the mutagen. Splinter easily avoids detection on his way to where the mutagen is stored.
Inside the Savate command center, Leonardo confronts Victor. The two battle and Leonardo comes out on top. As he is about to finish him off, Shredder tells him to stay his hand; he has other plans for Victor. Victor pulls out a gun in a last-ditch effort to escape but the Shredder dodges out of the way and cuts off his hand. 
Splinter, on his way back out with the mutagen, is stopped by a guard. The guard tells him not to move or he'll shoot. Splinter throws the mutagen container into the air, distracting the guard, giving him time to knock him out, catch the mutagen and make his escape. 
Raphael visits Casey in the hospital. He starts to apologize for getting Casey into this mess, but Casey tells him not to blame himself. Casey says they're family, and they always have each other's backs, no matter what. Raphael tells Casey what they've been doing to get information on the Foot and how to get Leonardo back. 
Splinter returns to Hob with the mutagen. He tells Hob to be ready when he calls on him, and that he had better honor their arrangement. After Splinter leaves, Hob asks Slash if he finished his task. Slash says yes. Hob pulls out a remote detonator and pushes the button, igniting several bombs placed around the outside of StockGen as they speed off into the night. 
In the Savate's headquarters, Shredder tells Leonardo that their last enemy has been defeated, and soon the entire city will be theirs. Karai listens in, and it becomes more apparent that she has been preparing her own plan of action, unbeknownst to Shredder.
(Note: the Bebop & Rocksteady micro-issue takes place here between issues #26 and #27)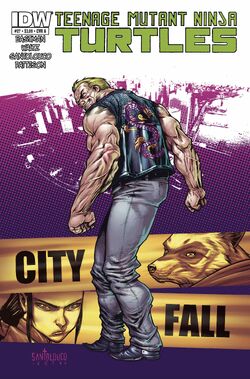 Outside a seedy joint, Woody and Mike put the finishing touches on their cunning plan. Woody gives Mike (who is dressed as an Italian chef) a fresh pizza and then skedaddles to safety. Apparently, they've been at this all night, but Mike has a good feeling about this round.
Mike knocks on the door and a couple of thugs answer. They didn't order any pizza, but figure they ought to eat before they get going to "the big meeting". Hearing all he needed, Mikey ditches the disguise (that wasn't really working) and starts beating some answers out of the thugs regarding this underworld meeting.
At an abandoned warehouse, Angel finally challenges Hun for leadership of the Purple Dragons. She hits him with her escrima, but he feels nothing. Before the fight can escalate, a Foot messenger appears from the shadows with orders to Hun to bring the Dragons to a meeting of gangs where they will all swear allegiance to the Foot Clan. Hun asks the Dragons if they'd rather be a glorified neighborhood watch under Angel's leadership or filthy rich under his and the Shredder's leadership. The Dragons side with Hun and Angel leaves, defeated.
Down in the church lair, Don shows off the anti-gravity gauntlets to April and Raph. Suddenly, Mike bursts in with news about the underworld meeting; he has a time and a location. Splinter tells his sons and April that they must prepare to reclaim Leonardo from the Shredder.
Speaking of Leo, at Foot HQ, is lost in a dream. He sees himself and his brothers about to be executed by the Shredder in Feudal Japan. He is confused and thinks everything is all wrong. The spirit of his mother, Tang Shen appears to him and tells him that he does not belong here. The Shredder swings his sword and Leo awakens, screaming. Karai has been watching him with a cruel look in her eyes. Dark Leo asks if everything is ready for the meeting.  Karai sneers and tells him that all the "preparations" have been made.
In a parking garage, the Turtles stock up on provisions with Old Hob and Slash. Raph doesn't like the amount of munitions Hob is bringing along, but Splinter tells him to appreciate any aid they can get in their mission. April agrees to operate as getaway driver and sends Casey a text, telling him she's going to help the Turtles find Leo.
At Foot HQ, Alopex meets with Kitsune. Speaking in Japanese (as Kitsune does not speak English), Alopex tells her that when she first heard the stories of a fox-woman from Feudal Japan, it helped her feel at peace, as though she wasn't the only humanoid fox in the world. Kitsune replies in English (much to Alopex's surprise) and tells her that foxes must be cunning and know when to watch and when to act. Alopex looks surprised, as though Kitsune knows something.
At the hospital, Angel brings Casey his hockey mask which she found outside the Skara Brae. Casey tells her that his dad came by the other day, looking healthier and happier, and gave him a hockey mask as a peace offering. Angel spills the beans about his father, "Hun", and how he has taken over the Purple Dragons and wants to ally himself with the Foot. Casey grows furious and hobbles out of his hospital bed and gets dressed. He's had enough sitting on the sidelines and wants to go to the big meeting to help save Leo and face down his father.
At an old abandoned theater, the Shredder takes the stage as all the gangs in New York watch. He tells them that he has taken command of every gang in New York, one at a time, with only a single hold out: The Savate. The beaten Victor is brought onto the stage and Dark Leo hands Shredder a sword. As Shredder makes an example of Victor by decapitating him, the spirit of Tang Shen appears to Dark Leo and repeats what she said in his dream.  Leo becomes disoriented and begins to have second thoughts about his allegiance.
Outside the theater, Splinter gives the sign to begin their assault. Old Hob fires a rocket at the parking lot, exploding several cars as Slash charges the sentries. The Shredder orders the gangs to leave the theater and deal with the attackers. Meanwhile, Don uses his anti-gravity gauntlets to levitate a sedan and sends it smashing through the side of the theater. The Turtles and Splinter invade the theater and tear their way through the Foot Soldiers guarding the Shredder.
In the parking lot, Hun grabs a machinegun and leads the fight against Hob and Slash. He nails Hob in the leg and is about to gun down Slash when the weapon is knocked from his hand. Hun turns around to find Angel and Casey (wearing his old hockey mask).
Inside, Don uses his gauntlet to send Shredder careening into Alopex. Dark Leo attacks Raph but can't bring himself to deliver a killing blow. Eventually, he succumbs to the confusion and falls to his knees. Shredder orders Karai to prevent the Turtles from escaping. She disables Don's gauntlet with an arrow then calls in her personal reinforcements: Bebop and Rocksteady.

Bebop and Rocksteady easily knock aside Master Splinter, Raph, Don and Mikey, trashtalking the whole time. Outside, Casey and his father the Hun talk amidst the chaos. Hun asks Casey to join him in working for Shredder and the Foot Clan. He tells his son that he finally has what it takes to be a decent father. Casey declines his father's offer and hits him in the head with his baseball bat, but Hun is unfazed.
Back inside, Shredder is surprised by the appearance of Bebop and Rocksteady and asks Karai where they came from. She informs him how she selected two suitable candidates from among the Foot Clan's recruits and mutated them into the two powerhouses before them. Bebop and Rocksteady continue beating back Splinter and the three Turtles. Splinter reminds them of the need to get Leo quickly and get out. 
Karai yells at Bebop and Rocksteady to quit messing around and finish off the Turtles. Bebop and Rocksteady are sad their fun has to end, but before they can move a wall comes crashing down on them, thanks to April who is using Harold's anti-gravity gauntlet and cloaking device. Donatello tells April they better make the most out of the devices' little remaining battery life. 
Onstage, Shredder urges Leo to rise to the occasion and use lethal force to defeat his enemies. Leo is still in a daze, asking where his mother is. Shredder strikes him in an attempt to knock some sense into him. Splinter approaches with Raphael and tells Shredder he will not touch his son again. 
Outside, Casey continues trying to bring down his father, to no avail. He breaks his bat against Hun's arm; no effect. Hun picks Casey up by the throat and tells him he's going to make him listen to reason, one way or another, leaving him distracted enough for Angel to strike him in the leg, bringing him down. Hun rises again and pins Angel down. He is about to kill her when Hob shoots the Hun in the shoulder, and Casey bodyslams him. Hun tells Casey to knock it off before he hurts himself, his stitches already ripped. Out of nowhere, Slash picks up Hun and hurls him into a car. 
Inside the theatre, Splinter and Shredder fight. Snapping out of his daze but still brainwashed, Leo attempts to protect Shredder but Raphael stops him. Leonardo tells Raphael he will pay for that. Raph tells Leo that acting like a Foot soldier is not his thing and they both know it; Leo tells Raph he knows nothing about him. Raph says he does indeed know a lot about Leo, and cites examples (including: that the only thing Leo likes more than training is getting ready for training; that he named his katanas Musashi and Kamiizumi; that he avoids playing video games with Mikey because he hates being beat). Raph tells Leo that he knows if Leo were himself he would never be able to disarm him (which he proceeds to do), and he knows that he doesn't have to fight him anymore, because they both know Leo doesn't belong with the Foot Clan. What Raph says echoes what Leo heard from their mother in a dream.
Shredder has gained the advantage over Splinter and breaks his leg, crippling him, as he tells him that he will finally have vengeance against Splinter (who in his former life was Hamato Yoshi) for betraying the Foot Clan. Shredder is about to kill Splinter when Alopex attacks him, unable to hide her disgust and anger with him for burning down the forest where her family lived (see the Alopex micro-issue). Karai hits Alopex in the shoulder with an arrow. 
Leonardo, finally shaking off the effects of the brainwashing, is surprised to see Raphael and his other brothers alive and well. He is confused about what has happened. The Turtles prepare to flee and begin helping Splinter to safety. Slash bursts in through yet another wall and helps Mikey carry Splinter. They all pile into a truck waiting outside with Hob behind the wheel. Bebop and Rocksteady are hot on their heels, but Hob stops them with a grenade. As the truck speeds off, the Hun, Bebop and Rocksteady look on. 
Later on at the Foot Clan headquarters, the head of the Italian mafia is presenting Shredder with a tribute. He apologizes for not being cooperative with the Savate situation but Shredder tells him this arrangement will be mutually beneficial and dismisses him. Shredder calls in Karai; he tells her that she has committed gross insubordination, punishable by death. He asks if she denies it and she does not, saying she accepts her fate, as all her actions were done for the glory of the Foot. He tells her to rise, as she is now his chunin. Shredder explains that brainwashing Leonardo was a psychological move, meant to demonstrate his power over both man and mutant to his foes in the criminal underworld of New York City, as well as to destroy Hamato Yoshi's (Splinter's) family and to test Karai to see if she was truly worthy of being his second-in-command. Shredder tells Karai that he had to know that he could trust her to rule the city while he focused on matters elsewhere. He knows now that he can, because their family bond is stronger than one of mere blood, it is a bond forged by pain, sacrifice, and combat, proving they are destined to rule. 
On the outskirts of town, Splinter, the Turtles, April, Casey, Angel, Hob, and Slash regroup, lick their wounds, and plan their next course of action. Since Shredder will likely begin searching for them soon, Splinter, Turtles and Casey plan on going into hiding, and April knows a place they can all go. Casey asks if Angel wants to come, but she says she needs to stay, as her dad needs her help. Splinter attempts to console Leonardo, but Leo resists, still very shaken from his ordeal. Before they leave, Leo gives Slash's mask back to him, as well as the blade gauntlet he got while with the Foot Clan. Hob and Slash watch as the group departs for Northampton. 
Transcript
Trivia
Gallery