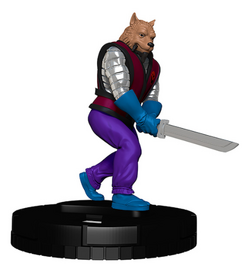 Chien Khan is a TMNT Heroclix release.
Attributes
TMNT Villain, Martial Artist, Mystical
Powers and abilities
Sacrificial dagger: Chien Khan can use Blades/Claws/Fangs and Steal Energy. When Chien Khan KO's an opposing character, after actions resolve, you may place a Noi Tai Dar, Great Oni bystander as described on this card in the KO'd character's square.
Chase you down (Charge)
Control the warrior dragon (Mind Control)
Fists of fury (Flurry)
Feel my bite (Blades Claws/Fangs)
Martial arts master (Combat Reflexes)
Dog's senses (Super Senses)
Leader of the Dog Star Gang (Leadership)
Sorcery of the oni (Probability Control)

Point value: 75
Universe: Teenage Mutant Ninja Turtles Adventures (1988 comic series)
Noi Tai Dar, Great Oni
Phasing/Teleport
Penetrating/Psychic Blast
Impervious
Close Combat Expert

Point value: 0
Community content is available under
CC-BY-SA
unless otherwise noted.